I saw a
Facebook event
wherein an enthusiastic, charged up team of Indian youngsters have decided to protest against the government for not conferring Sachin Tendulkar with the country's highest civilian honor:
Bharat Ratna
. Well, to start with, I am big fan of Sachin Tendulkar. I love him a lot. He is my hero. I do admire him like any other Indian. He had made the nation proud on lot of occasions, but I will not agree with the illogical fight for Bharat Ratna. Those who are fighting madly and blindly for it, I wanted to ask them one question:
"Do you know what Bharat Ratna is, at all?"
It is India's most prestigious award given to recognize
those people who have made our country proud by excelling in their own fields and bringing us international recognition.
So, Yes, Sachin's excellence in his field is unquestionable. It did take the our country to greater heights in the international stage. But the award has no mention of sports
.
Quoting from the
official page
, It is only given for
exceptional service towards advancement of Art, Literature and Science, and in recognition of Public Service of the highest order.
As far as i know, Sachin is a
big fan
of Lata Mangeshkar, but never before I saw him sing like her, nor did he do a
Sir.C.V.Raman effect
or anything near to Dr.AP.J Abdul Kalam's contribution in the field of science. Philantrophy? Yes. He has been doing some great things silently. Tendulkar sponsors 200 underprivileged children every year through Apnalaya, a Mumbai-based NGO associated with his mother-in-law, Annabel Mehta. A request from Sachin on Twitter raised Rs.1.025 crore (US$228,575) through Sachin's crusade against cancer for the Crusade against Cancer foundation. But no way, his contributions are near the great women,
Mother Teresa
.
Human mind stops working when the emotions are in action. Love, by nature, possess the highest level of emotion. The overwhelming love for Sachin actually stops the
logical reasoning
department's job in the brain and the fallacious reasoning leads to such outcry. Realize that this award has nothing to do with the greatness of Sachin. He got the highest civilian award for
contribution in sports
way way back in 1998. Do you know what that award is?
Rajiv Gandhi Khel Ratna Award
[Here is the
complete list
]. Conferring him with Bharat Ratna will actually require
some change of rules
, inside which I see no point in. Come on, there is already an award for SPORTS and he got it.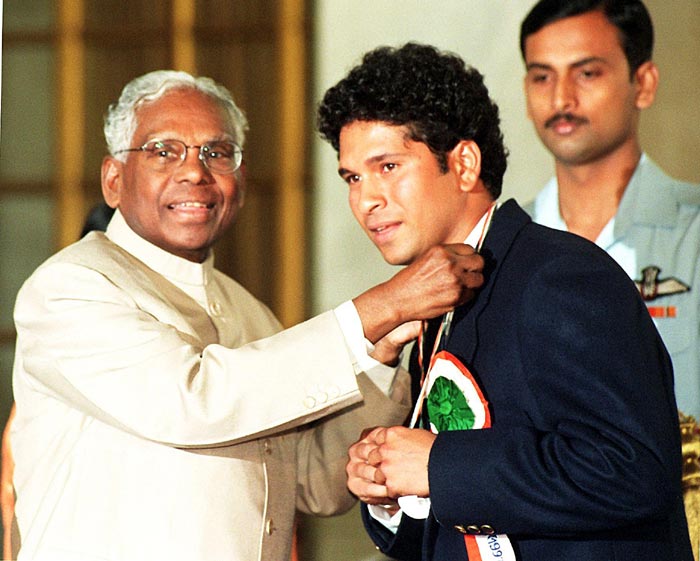 The first cricketer to be honored with the Rajiv Gandhi Khel Ratna Award, the highest honour given to an Indian sportsperson.
Even if it is given, I will not be surprised to see them fighting again, for a
Dronacharya Award
or even worser, a
Param Vir Chakra
. For those who have no idea about who won it before, here is a
Complete list of recipients
. Now, there might be people who you think doesn't deserve it, I want to tell you, but please don't connect that with Sachin. So, my dear friends, Keep loving Sachin like you always do, cheer him up for his upcoming landmark - 100 Hundreds. I tried to start a twitter trend:
#1002
but it did not allow me to add super-script. Please put your mind to work for a while, before you start any argument in your life.