It's the Indian cricket team I am talking about. They reached the No.1 position in Test cricket and remained there throughout the year. Things could 've got worse had they lost the
last test match of the year
, thanks to Mr.
V
ery
V
ery
S
pecial Laxman's knock of 96 and his brilliant, match-winning partnership of 70 for the 8th wicket with Zaheer Khan.
Had there been a striking difference in the team's performance, it will be the batting contribution from the Tail. I always moan over a SA or AUS Tail's partnership that go on and on against us. I use to wonder why Indian batsmen cannot do such a thing. It's TEN wickets, isn't it? Not FIVE. Everyone has to get out. It's not that your senior batsmen get out and you handover the next innings.
I rarely see such a thing from Indian batsmen. Once the senior batsmen are down, the rest will go down like a deck of cards. Even if you take the stats, none of the 6th or 7th or 10th wicket partnership record will be under India's name.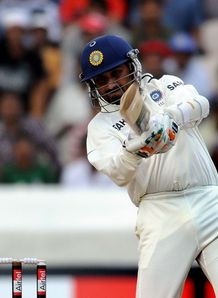 © Skysports
Things have changed recently. There are so many test matches where India was 5 down for just 50 odd runs, still came back and put up a very good show and won the game. Even Dhoni also agreed to this point. Though you have SIX regular batsmen in the team, it is always important that your tail tries it's best to score. Harbhajan Sings's back-to-back Hundreds made a huge difference in the result of the NewZealand series, and helped India seal the series as well as cement the position at #1.
But this year, the focus is going to be on the 2011 ODI World Cup...I am following this edition from 1999 and it's Australia all the way...They 've won the tournament for three times consecutively('99, '03, '07). But they lost most of their winning eleven. India enter the tournament as the favourites. Let's wait and see how it goes...33 more days to go :)
Whatever happens in the world cup, India should hopefully continue to dominate the test version. They 've won Australia in Australia, SA in SA. There is nothing else in the world where anyone have to prove their talent. Would like to see India winning England in England as they look formidable now, after regaining the Ashes.