I am glued to my PC. Surfing the internet as well as a frequent ALT+TAB to cricinfo.com for checking the scorecard. It's the
32nd Game of IPL-3
2010. My Chennai is taking on Rajasthan today and i couldn't control myself from turning off the PC and switch over to the TV room after the 12th Over. Murali Vijay, a player whom i & million other fans were disappointed with earlier has now become a Match Winner. He scored an astounding, outstanding 127 in a mere 54 deliveries with 11 towering Sixes today.
All he did to perfection was two things. "Stand Tall, Slam". The result remained one though. SIX !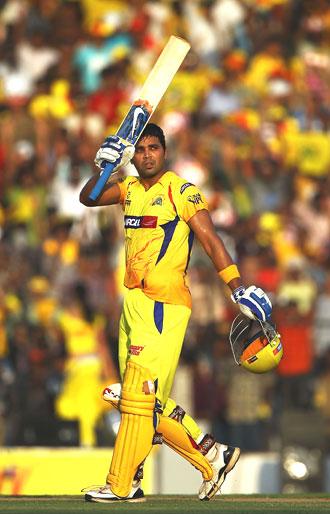 He hit the ball all over chepauk - even of the best of bowlers. His six over square-leg of Top-Class Tait was just amazing. Before this, I was telling all my friends, he must be axed asap from this format as it didn't looked like his arena ! No single doubt that He is an excellent test player & spectacular at Short-Leg. But He was not finding form in this fast-paced format. Seemed to be completely out of sync.
His total score in IPL is 300 now in 8 games out of which 200 came in the last two games alone. His initial scores were read as 3, 33, 14*, 0, 3. He even dropped sitters at long on, provoking poor, pathetic perceptions. He would surely have had a hunch of humiliation. A not-so-famous quote from Maya Angelou goes like this.
"You may encounter many defeats, but you must not be defeated. In fact, it may be necessary to encounter the defeats, so you can know who you are, what you can rise from, how you can still come out of it."
Vijay arose in style. This not just the first good knock he played, but the third straight ! His last there scores are 42,78, 127. This inning might well get him a spot in the upcoming World T20 Tournament starting 30 Apr.
Well done Vijay. Congratulations. Proud of your performance after coming back from all the criticism and proving your potential to perfection. Well done !